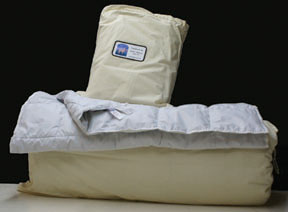 ALPACA HANDMADE DUVET
Salem Alpacas offers our duvets as a better alternative to feather duvets. Our duvets are available in crib, twin, double, queen and king sizes and fit easily into standard duvet covers. Light-weight, warm, breathable and considered non-allergenic Salem Alpacas Duvets keep you warm in the winter, cool in the summer and look great on your bed year-round.
Salem Alpacas handmade Duvets are: 100% Alpaca Fleece batting in 230 thread count, down proof 100% cotton, sewn in 6" squares, keeping the fleece in place, giving you warmth without weight.
Wrap yourself in the luxury of a Salem Alpacas Duvet today!
More than 2300 Salem Alpacas Handmade Duvets
have been sold by us!
Thank you everyone!
SWEET DREAMS!!
2023 marks 21 YEARS that Salem Alpacas have been making Handmade Alpaca Duvets.
Order Yours Today:
Prices effective March 1, 2023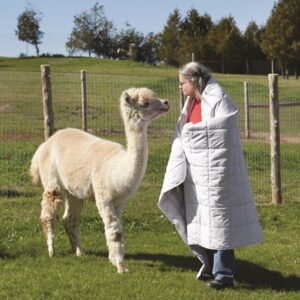 | | |
| --- | --- |
| Size | Price |
| Crib | $ 115.00 |
| Twin | $ 449.00 |
| Double | $ 500.00 |
| Queen | $540.00 |
| King | $ 604.00 |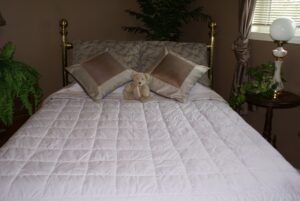 Plus applicable taxes, and shipping.
Pick up is available at the farm (please pre-arrange).

Order your duvet today!
You can use the Order Form,
email us or call 705-786-2023.
We will confirm order by email and provide further information.
We will ship your duvet via Canada Post.
WASHING INSTRUCTIONS
If you take care of your alpaca wearables and duvets they will take care of you.
Wearables: hand wash cold water with Eucalan or mild soap, squeeze out excess water and  lay flat to dry.
Duvets: Dry Clean or soak in Eucalan, air dry, do NOT air fluff in dryer.
OPTION: You can use a Front Load washer because they don't agitate.
Use the gentle cycle with cold water, lay flat to dry. Do Not Put in the Dryer.
NOTE:  Alpaca may shrink or felt easily if washed in warm or hot water and agitated or dried in the dryer.
DUVET PRODUCTION
SORTING
MILL PROCESSING
BATTS
ASSEMBLY
SEWING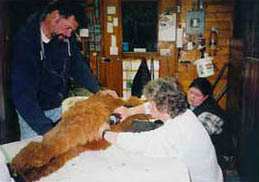 Shearing of our alpacas takes place around the middle of May when the weather is more likely to be consistently warm, allowing the alpacas to adjust to not having their full fleece coats.
At Salem Alpacas we use a shearing table specifically designed for alpacas. This table flips vertically, allowing us to walk the animal right up beside it. We fasten the alpaca to the table with a belly band then adjust the table to a horizontal position with the alpaca lying on top. After their feet are fastened with adjustable straps, to keep them safe and secure, we remove the belly band and start shearing.
We separate the fibre as we do the shearing, with the premium fleece coming from the main part of the body (also known as the blanket area), and the seconds coming from the legs and neck. We make use of all of the fibre with the premium, or blanket, being used for yarn and knitted goods and the seconds being used for batting and felt. We shear one side of the alpaca then we roll them over and do the other side. Having the alpaca on the table also makes it a good time to trim toenails, clean teeth and clean up top knots.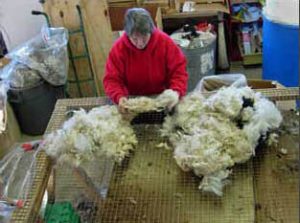 We use only seconds, from the neck and legs, for the production of duvets. We sort the fibre by hand on a sorting table made of a one inch wire mesh grid on a wooden frame. This allows any soil the animal may have picked up to fall through. We also use this time to sort out vegetation and any short ends or soiled fibres.
All fibre colours are mixed together so that when it is processed at the mill it blends into a neutral colour giving us batting that will not show any dark or light spots in the finished product.
While it is very time consuming, we take extra care and pride in the sorting of the fibre knowing that this adds to the quality of our Salem Alpacas Duvets.
Processing Our fibre is then taken to a mini mill to be processed. Here the raw fibre is weighed out into 12 pound lots for hand-washing. These lots are then divided into three tubs, with four pounds of fibre per tub, and hand-washed in an environmentally friendly soap made specifically for natural fibres. The fibre is then rinsed twice before being spread out on drying racks overnight.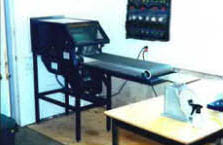 Picker The first machine the fibre goes through is called the picker. This picking process "opens" the fibre to prepare it for further processing. Special conditioners are sometimes added at this point to help with any static that may have built up.
Fibre Separation While most fibre goes through a machine called the separator next, the time and care Salem Alpacas takes in sorting and preparing the raw fibre for our duvets results in ours being able to bypass this step.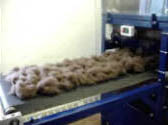 Carding The carding machine then combs and aligns the fibre onto a rotating drum which forms a "batt". The batts are then weighed out by hand as specified by Salem Alpacas for each of the various size duvets we produce.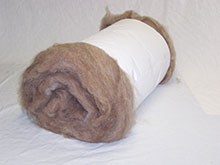 Once returned to the farm, the batts are sorted according to the size duvet they will be used to make and stored in an environmentally controlled storage area.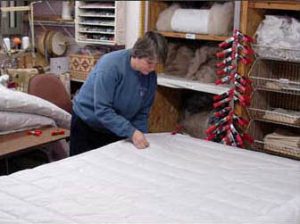 A layer of 100% cotton fabric is laid out on the production table where the appropriate size batt is then unrolled and spread evenly over the fabric. A second layer of 100% cotton is then laid in place on top of the batt. The three layers are clamped securely together, keeping everything aligned, and the pinning process begins. Following a six inch grid pattern the duvet is pinned completely in one direction. This is very time consuming but by following this pattern we can be assured there is no opportunity for the fibre to shift or bunch.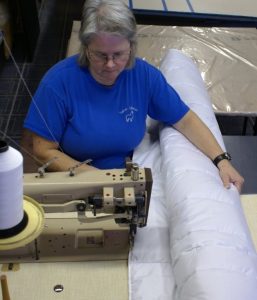 The duvet is sewn completely in the same direction as it has been pinned. It is then laid back out on the production table and completely pinned in the opposite direction and stitched again. This completes the six inch grid pattern assuring that the fibre has nowhere to move. By using this method there are no cold spots, since the fibre is stitched in place rather than being stuffed in after stitching, and it won't bunch or shift as feathers might.
Save
If you are ordering a duvet, please provide ALL information. We will confirm your order by email within 48 hours and provide further information.
If you do not see the email, please check your junk folder. Ensure delivery of email by whitelisting our address: info@salemalpacas.com.
We accept Visa and MasterCard.
Shipping only to Canada and mainland United States.
"Wow!!! My husband had asked me if an alpaca duvet was really going to be better than the one we had (silk). To be honest, I was basing my assumption off the fact that my alpaca socks are my utmost favourites and the alpaca bath mat has been better than any traditional one I've ever had. So why would a duvet not be, right? Well, after a long week waiting I can with certainty say that by far this is the nicest duvet and was the best purchase I've made!! I'm thrilled with how comfortable we both were using it. The ability to regulate between someone who's always cold next to someone who's hot, is nothing short of a miracle!! I wanted to express my utmost thanks for your skills and to the alpacas for their amazing wool."
Holly
"My husband and I love our duvet. We have had ours for over 2 years and it is still as good as new."
Janice, Sunderland ON
"Hi, I'm very interested in buying two of your duvets, not only due to the quality of the product but also because they are ethically sourced. Your alpacas are obviously much loved, and the shearing process seems very humane. I know that I and my family will sleep comfortably and guilt-free under our Salem Alpaca duvets."
Thank you ! Cindy, Burlington ON (purchased a queen and a double).
"I am so totally happy with my duvet. I've had it now for 4 years and I use it ALMOST every season, because its next to NO weight but "oh so comfy" to sleep under. Only time its off the bed is mid-summer and then my wife and I take advantage to send it in for dry cleaning. My wife and I also sell them in our farm store and they promote the animal's fleece that we're so proud of,  at Gold Star Alpacas, in Tillsonburg."
Rick & Jerra Anderson
Gold Star Alpacas
Tillsonburg, Ontario
"Foundations in Breeding, Standards in Excellence"
"Salem Alpacas Handmade Duvets are the perfect wedding present, I have given many and they are always very much appreciated."
Nancy C.,    Elginburg, ON
"We have been selling and using Salem Alpacas Handmade duvets for many years now. We have been very happy with the quality and consistency of these duvets. Truly a year round duvet."
Kristi M,  Bellwood, ON